UN High-Level Climate Champions visit Antigua & Barbuda, meet AOSIS Chair
Minister Molwyn Joseph, HLC Nigel Topping, and HLC Gonzalo Muñoz discuss mobilisation of global efforts to deliver on Paris Agreement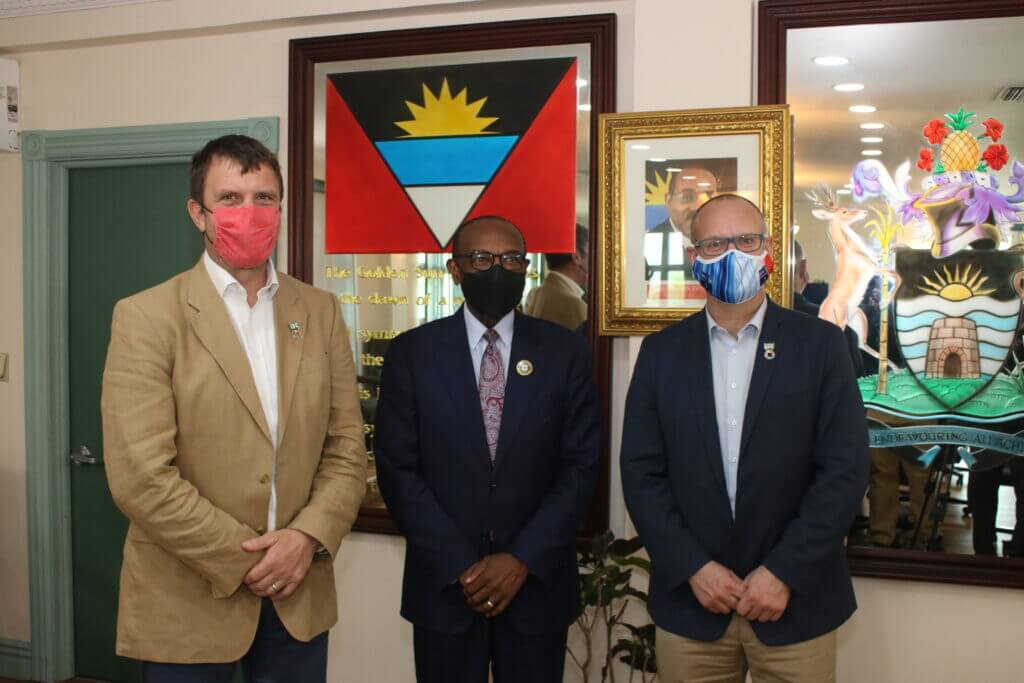 The Honourable Minister Molwyn Joseph of Antigua and Barbuda, as Chair of the Alliance of Small Island States (AOSIS), hosted the United Nations High-Level Climate Action Champions (HLC) of the annual Climate Conference, Mr. Nigel Topping of the United Kingdom for this year's upcoming COP26 and Mr. Gonzalo Muñoz of Chile for COP25 (2019), during their visit to Antigua and Barbuda from Thursday 19th – Sunday 22nd August.
The Champions engaged in productive discussions on building resilience for small island developing states and achieving a global zero-carbon future. The meetings came at a pivotal time in the lead-up to COP26, as AOSIS reiterates its call for decisive, urgent global action to combat the climate crisis.
HLC Topping led a roundtable discussion with local stakeholders on Mobilising Private Finance for the Energy Transition in Small Island Developing States (SIDS). The group discussed how to increase private capital to build resilience and support a clean energy transition in Antigua & Barbuda and regionally. Minister Joseph emphasized the key role small islands can play in protecting natural resources and leading the charge for more sustainable energy.
"Antigua & Barbuda has the ambition for 86% of local energy resources to be renewable energy by 2030," said Minister Joseph, who added that, "by 2030 all imported cars in Antigua and Barbuda, whether they be new or second-hand cars, must be electric vehicles."
A second tourism focused roundtable, titled Climate Champions & Tourism – Race to Zero, was led by HLC Muñoz. Tourism stakeholders shared examples of climate change risks faced by their industry, such as water shortages and extreme weather events. Participants highlighted the actions being taken to manage these risks and expressed their interest in participating in the country's transition to clean energy, particularly in the transportation sector. HLCs Topping and Muñoz also toured the Wallings Nature Reserve, which practices sustainable development and protects the biological diversity of Antigua and Barbuda. 
The plight of small island states will be on the agenda at this year's COP26 in November. Speaking about the upcoming UN conference, Minister Joseph, who will be attending the negotiations, is confident that, "The Chairman of the Conference and the US Representative have agreed that the loss and damage issue will be on the agenda for COP26."
Since the Paris Agreement, the focus has been on mitigation and adaptation, but small islands are already and will continue to be severely impacted by losses and damages due to hurricanes, flooding, drought, and other extremes.  "Our very lives hang in the balance. We are heartened by the commitments of our High-Level Champions to fight for a zero-carbon economy and look forward to mobilising the private sector, and seeing the necessary actions being taken at COP26 to ensure an equitable, sustainable future for all."
____________________________
Media Contact:
Bianca Beddoe | Communications Advisor 1.868.779.0945
Tashwa James | Communications Advisor
media@e6dnxsswo6r4cwebsite.azurewebsites.net