Statement on behalf of the Alliance of Small Island States (AOSIS) at the Joint Plenary of COP, CMP, CMA, SBSTA and SBI
Download PDF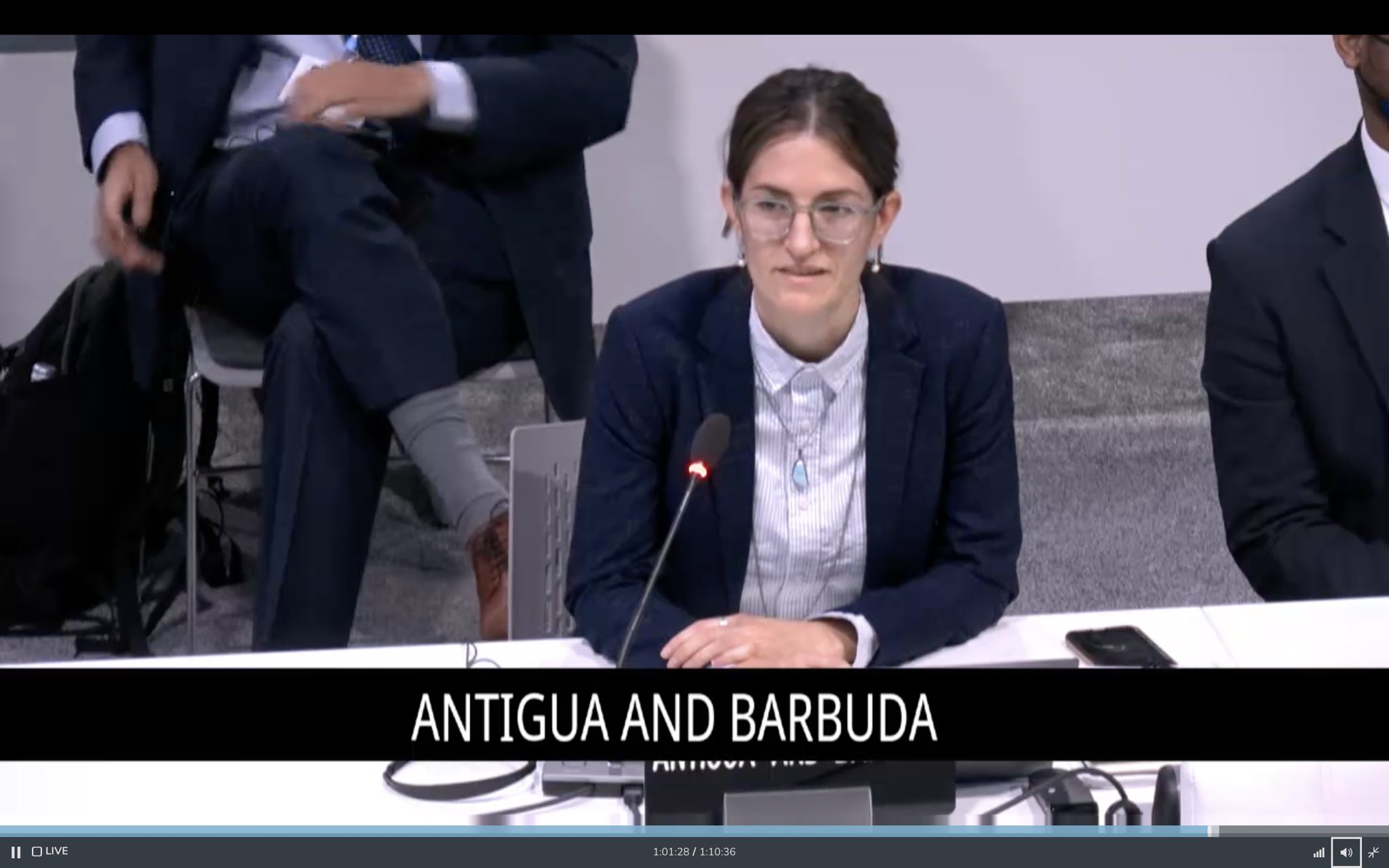 I have the honor to deliver these remarks on behalf of the Alliance of Small Island States in alignment with the statement delivered by the Group of 77 and China.
Introduction
We would first like to thank the Government of the United Kingdom for their outstanding efforts to enable COP-26 during this critical year. This year is one of the last stands for 1.5-degrees. The world is watching.
The on-going COVID-19 pandemic showed how ongoing climate change impacts exacerbate humanitarian, economic and social consequences of the health crises. SIDS were already struggling to cope with socio-economic impacts from hurricanes, cyclones, droughts and floods that continue to ravage our island nations, and this pandemic has plunged us deeper into debt. As a result, SIDS face an ever growing mountain to climb as the scale and magnitude of the climate change impacts increase as we inch closer toward a 1.5-degree world. Time is running out and during this COP we must deliver. Failure is not an option.
Climate ambition in the COP 26 outcome
Mitigation
This year's first report of the 6th Assessment of the IPCC recently confirmed that this is our bleak future. The Climate Change Convention and the Paris Agreement guide us on how to address climate change, but commitments and actions from Parties are not aligning with agreed goals. The Paris Agreement appears to be stalling at its infancy.
Even with recent announcements, the emissions gap in 2030 to limit global warming to 1.5-degrees was only narrowed by a fraction. None of the major emitters have targets that add up to a 1.5-degrees scenario, and all these targets are yet to be implemented.
However, all is not lost. With greater ambition and urgent action, there is still an opportunity to limit the temperature increase to 1.5°C. But the window to correct course is closing fast. We call on Parties to submit their enhanced NDCs. AOSIS requests a formal platform to take stock of commitments and progress towards the 1.5-degree goal as well as the real gap and the consequences of this gap.
Adaptation
The Paris Agreement scales adaptation needs and costs according to mitigation levels. This is especially true for SIDS due to our unique national circumstances, acute vulnerability, and our limited adaptive capacity. With a trajectory of 2.7-degrees of warming, we need to increase adaptation finance to at least double above the current levels, while aiming for parity with mitigation finance. Adaptation finance should be public, grant based, predictable and accessible.
Adaptation finance and measures by their very nature are long-term investments and can have lifecycles of 20, 50, or even 100 years. We need innovative financing modalities for adaptation. Climate adaptation debt should not be on national balance sheets, and debt servicing and a debt service facility should be an integral part of our dialogue.
The Global Goal on Adaptation (GGA) was established under Article 7(1) in the Paris Agreement, in the context of the temperature goal in Article 2. Work needs to be done to define what this means, and the support needed to achieve this goal. We underscore calls for discussions on the GGA in order for Parties to engage on this critical issue and we also expect rapid and significant progress on all agenda items relating to adaptation.
Finance
Developed countries have failed to deliver the commitment made in 2009 and reinforced in 2016 to provide and mobilize $100 billion in climate finance per year by 2020 for climate action in developing countries. According to the latest delivery plan, the finance gap will be between $35 to $45 billion short by 2023. Commitments made but not kept.
Financing for the root cause of climate change is still exponentially higher than the finance to respond to climate change. Fossil fuel combustion accounted for 86% of emissions over the past 10 years and yet subsidies to this one sector in 2018 amounted to over $471 billion, compared to just $78 billion provided and mobilized by developed countries. Over $1.6 trillion went to subsidizing fossil fuels since the adoption of the Paris Agreement.
Current global financial flows contradict the principles and objectives of the Agreement. This situation is further aggravated by the inability of SIDS to access the 'pittance' of finance that has been made 'available', due to archaic procedures and criteria governing access. Financing for SIDS has declined by $600 million, from 2.1 billion in 2018 to just 1.5 billion in 2019. This is not climate justice. AOSIS calls for all climate finance providers to harmonize access procedures in order to expedite access. There is also an urgent need to supplement the capacity of national, sub-regional and regional entities.
This COP needs to deliver the outcomes that will scale up climate finance. $100 billion in 2023 is three years too late. We must do better, we have to do better, our lives depend on it.
We expect progress on Article 2(1)(c) at this COP, to make finance flows consistent with low emission climate resilient development, which includes phasing out all fossil fuel subsidies in major economies by 2023. With the agenda item in the CMA, we look forward to starting discussions on the new collective quantified goal on climate finance immediately.
Loss and Damage
AOSIS demands concrete outcomes on financial support for loss and damage in SIDS, building on the WIM review completed during COP 25. Resources for loss and damage must be separate and additional to the annual US$100 billion pledge for mitigation and adaptation.
As Parties to the Paris Agreement continue to renege on agreed mitigation and finance obligations, accountability for the consequential loss and damage must be revisited. COP 26 must address the far-reaching, long-term and permanent consequences of insufficient climate action.
Paris Agreement Work Programme
The Paris Rulebook is incomplete due to postponed formal negotiations. AOSIS will work with Member States and support the COP Presidency to complete outstanding items, and transition the UNFCCC rapidly into full implementation mode.
Markets
The current lack of clear, agreed carbon market rules allow for greenwashing. Every year that a more stringent Article 6 carbon market is not agreed under the Paris Agreement, the system of greenwashing continues at our expense. Carbon markets are moving ahead, between countries as well as in the private sector. Financial firms that manage portfolios worth over $88 trillion have committed to net zero emissions by 2050 or sooner; many plan to rely on offsets that may or may not have real and long-lasting emission reductions attached to them as there are no harmonized guidelines to protect environmental integrity. Cooperation between countries will also proceed without clear rules on accounting and assurances of environmental integrity. Every year that Article 6 is delayed, there is a higher risk of a fragmented market, leading to lower international confidence in the post-2020 carbon markets architecture.
It is in our collective interest to conclude Article 6 this year. The rules that we adopt at this COP should protect environmental integrity, and ensure that CDM transition, if any at all, and accounting modalities do not undermine ambition in NDCs. Article 6 must move beyond mere offsetting to deliver net global emission reductions, through adoption of a substantial cancellation rate. AOSIS reiterates the call for a share of proceeds for the Adaptation Fund. We hope to reach agreement on the extension of OMGE and SOP to Article 6.2, to ensure a level playing field and to minimize perverse incentives. AOSIS is committed to a constructive discussion on markets and remains open to discussing bridging proposals with Parties.
Transparency
AOSIS supports the adoption of a robust transparency framework for all Parties, to build trust and confidence on progress made in implementing the Paris Agreement. We cannot entertain renegotiation of modalities, procedures and guidelines on transparency at this 11th hour, and we need to clearly understand how flexibility allowances will be used. We reiterate the need for support for SIDS, LDCs and all developing countries to meet the enhanced transparency framework.
Common Time Frames
Common timeframes must be established to align NDCs planning timelines for all parties for greater clarity on progress towards the 1.5°C goal, and further actions needed to ratchet up ambition.
Cross-cutting areas
Capacity Building and Technology Transfer
While SIDS have contributed the least to climate change, we are severely impacted as a result of limited national capacity to respond. Capacity building and technology transfer are critical to meet mitigation and adaptation goals. At this COP, we expect targeted approaches to capacity building for in particular SIDS and LDCs, and enhanced information sharing on technologies that are appropriate to our scale and conditions. AOSIS calls for a dedicated seat for SIDS on the CTCN Advisory Board.
Response Measures
As we transition to full implementation mode, it is important to recognize that we are all at different starting points. We need to better understand and address underlying factors required for a just transition for the unprecedented global transition that we're embarking on at speed and scale.
Global Stocktake
COP 26 commences the integral process of the global stocktake, to assess progress on achieving the purpose and goals of the Paris Agreement. This process must be inclusive, comprehensive, and transparent; not only retrospective but also forward looking. We reiterate our call for dedicated support to SIDS and relevant regional institutions in the preparations of inputs for the process, especially given the short submission timelines.
Conclusion
With the urgent work before us, we welcome and encourage any initiative by the COP President, the Chairs and Co-Facilitators, to work on outcome text as soon as possible, in particular the cover decision, and especially agenda items with informal notes from June. In an effort to move swiftly and safely during this COP, we are requesting that we begin our work with draft decisions. 
Outcomes at this COP will determine the success or failure of the Paris Agreement, the 2030 Agenda for Sustainable Development and the SAMOA Pathway. These high stakes have compelled SIDS to go through extreme lengths to be at COP 26. Let us work together to make things right at this COP and remember, 'the world is watching'.  
I thank you.
____________________________