STATEMENT
AOSIS Statement: United Nations Security Council Open Debate on Threats to International Peace and Security: Sea-Level Rise – Implications for International Peace and Security
February 14, 2023
HE Fatumanava-o-Upolu III Dr. Pa'olelei Luteru
Download PDF
Topic: Climate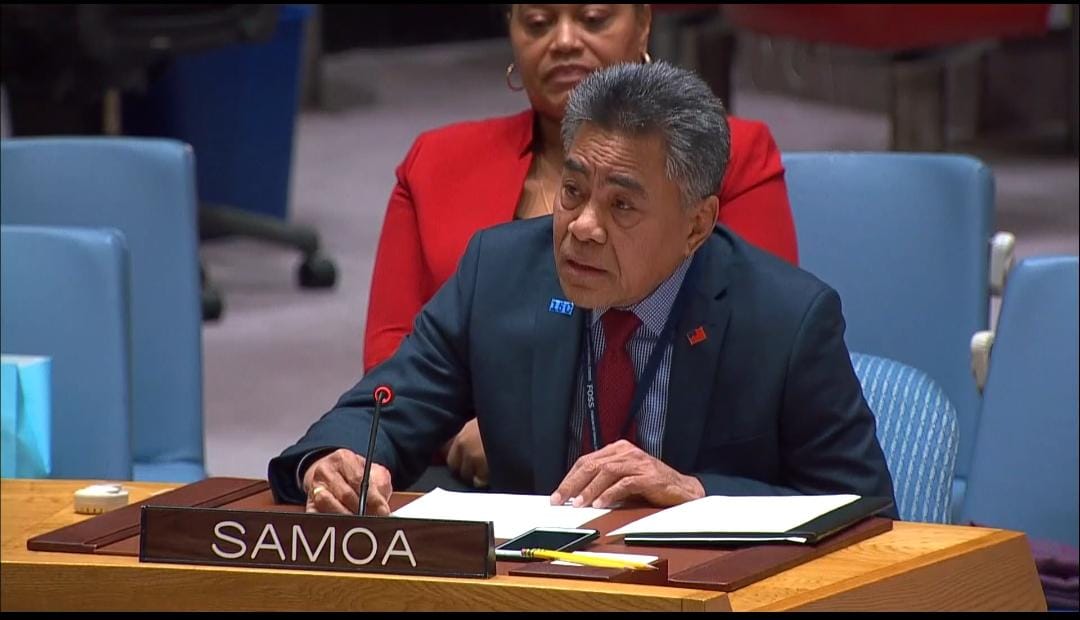 Mr. President,
  1. I have the honour to deliver this statement on behalf of the members of the Alliance of Small Island States (AOSIS), the 39 small island developing States (SIDS) that are specially affected by the multiple and intersecting effects of climate change.
2. We thank the Permanent Mission of Malta and the Honorable Minister, Dr Ian Borg, Minister for Foreign and European Affairs and Trade of Malta, as President of the Council this month, for convening this very important discussion. We recognize that it builds upon the work done by many in this Council on the issues of climate change.
3. There is a litany of new examples of the sudden and slow-onset impact of the climate change on small islands, from king tides to super hurricanes to the inexorable and unprecedented rise in sea level.
4. In the interest of time, we will not recite them here, not because they are not important, but rather because it is essential that we talk less and take more action to prevent and minimize the impacts of climate change going forward.
5. Turning to the questions proposed by the President, we would like to comment on a few of them.
6. Very certainly, the impact on SIDS of climate change is already and will continue to be extraordinary. Our small land masses, populations, economies and our remoteness mean that we have greater exposure to external economic and environmental shocks. Climate change will very certainly pose existential threat to our way of lives, potential even to our economies and communities. But, to be clear, sea level rise resulting from anthropogenic climate change does not have an effect on our statehood or sovereignty. No matter the effect that sea level rise may have on our land territory, we are large ocean states.
7. As we have in the Sixth Committee multiple times, we recall the AOSIS Leaders' Declaration of September 2021. In that negotiated declaration, our AOSIS Leaders affirmed that there is no legal obligation under UNCLOS to keep baselines and outer limits of maritime zones under review nor to update charts or list of geographic coordinates once deposited with the Secretary General, and that such maritime zones and the rights and entitlements that flow from them shall continue to apply without reduction, notwithstanding any physical changes connected to climate change-related sea-level rise. We are heartened to see that other states, including some of the largest coastal states, have adopted a similar understanding of international law, recognizing the need to ensure legal stability, security, certainty, and predictability.
8. On the issue of statehood, we think that the past two centuries of state practice are abundantly clear. The Montevideo Convention on the Rights and Duties of States is not relevant to the question of continuation of statehood. Rather, there is a fundamental presumption of the continuation of statehood in international law.
9. It would be inequitable and unjust to now suggest that in the context of rising sea levels we should strictly apply criteria developed in a regional agreement signed almost a century ago and ratified by 16 countries. Such criteria, in our view, do not apply to the continuation of states. We note that the potential loss of land territory by small islands because of sea level rise is not a natural phenomenon, but rather is anthropogenic in cause. To make an analogy, our land territory is being invaded as a result of the actions or inactions of other states. To now deprive us of our sovereignty is contrary to a century of state practice and our interpretation of the relevant law in this situation.
10. It is, as well, an unacceptable exertion of power by larger states, contrary to the principle of self-determination. Common Article 1 of the ICCPR and the ICESCR states that the right of self-determination allows people to "freely determine their political status and freely pursue their economic, social and cultural development."
11. Mr. President, it is our view that once a state is created by a people expressing their right to self-determination through statehood, that statehood will cease only if another form of expression of the right to self-determination is explicitly sought and exercised by that people. This is the only determinant of whether a state continues.
12. I would like to speak briefly on the obligations of states to address all the risks associated with sea level rise. The protection of persons in the face of sea-level rise is a global challenge that requires meaningful inter-state cooperation. This cooperation is not only a policy imperative. It is a legal obligation for every state.
13. It is our view that the duty of cooperation is a general principle of international law. This principle establishes an obligation for the international community to assist the states that are most affected by sea-level rise. This duty is rooted in the U.N. Charter, the Universal Declaration of Human Rights and the Declaration on the Principles of International Law Concerning Friendly Relations and Cooperation Among States. It is also a foundational principle of international human rights, environmental, and disaster law.
14. While cooperation is a legal obligation, it is also a matter of equity. AOSIS members are among the lowest emitters of the greenhouse gases that drive climate change and sea-level rise. Yet, we face some of the most severe consequences of rising sea levels. To expect small island states to shoulder the burden of sea-level rise—without assistance from the international community—would be the pinnacle of inequity.
15. Recognizing that responding to climate change will require global radical transformations of the global economy, with the real potential of disadvantaging some countries, particularly the small islands, we would encourage global conversations to continue to be inclusive of all voices and all states. It is only through that type of consultation that we will be able to ensure an equitable way forward.
16. More needs to be done. We attach great importance to discussions on the urgent need to fulfill international commitments, including on climate finance. We want to note, however, that the UNFCCC should remain the primary forum for discussions on climate change.
17. I again thank the Council President and the Government of Malta for convening this timely discussion. We look forward to continued collaborative discussion on how we confront this global scourge.
Sub Topic: Mitigation
Forum: SC
____________________________