PRESS RELEASE
AOSIS Fellowship wins UN Small Island Developing States Partnership Awards
2022-07-11
Download PDF
Topic: Fellowship
AOSIS Fellowship Wins UN Small Island Developing States Partnership Awards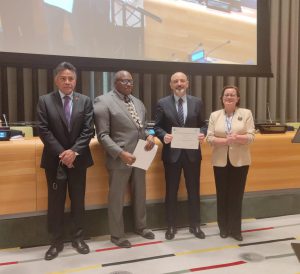 AOSIS Chair, Ambassador Walton Webson, and His Excellency Stefano Stefanile, Deputy Permanent Representative of Italy, are flanked by co-chairs of the UN Steering Committee on SIDS Partnerships, Ambassador Fatumanava-O-Upolu III Pa'olelei Luteru of Samoa and Ambassador Ana Paula Zacarias of Portugal
11 July 2022, New York – On Monday 11th July, the Alliance of Small Island Developing States (AOSIS) Fellowship was honoured with one of the inaugural awards of the UN Small Island Developing States Partnership Awards.
The UN SIDS Partnership Awards seek to recognize genuine and durable partnerships between Small Island Developing States (SIDS) and developed countries for the sustainable development of small island developing states and inspire others to embark on such partnerships with SIDS.
For the past decade, the AOSIS Fellowship has equipped young professionals from SIDS with the tools to negotiate on behalf of their island homes in the official UN environmental negotiations. AOSIS designed this year-long programme to overcome many of the issues which limit traditional capacity building programmes. The 12-month programme places SIDS early-career professionals in their Permanent Missions to work in the world of diplomacy at the United Nations Headquarters. Through intensive classroom sessions, they acquire in-depth knowledge of environmental science, international law and diplomacy, and receive the opportunity to participate in at least two international negotiations annually. In total, 38 young professionals and 25 SIDS have benefited from the Fellowship.
"The AOSIS Fellowship has been a game-changer for small island negotiators," said Ambassador Walton Webson, Permanent Representative of Antigua & Barbuda to the United Nations and Chair of AOSIS, "this programme is a partnership between AOSIS and Italy that has significantly increased our long-term capacity to engage in the international negotiations on issues that are very important to the development of our countries."
In 2018, the Government of Italy through its Ministry of Ecological Transition, joined forces with AOSIS in its effort to build the capacity of early career professionals from SIDS through the provision of multi-year funding and long-term commitment to a programme initially conceptualised by SIDS.
With the enhanced commitment of Italy, in 2022 AOSIS welcomed 10 young professionals from SIDS and expanded the curriculum to include ocean and sustainable development. The AOSIS Fellowship serves as a global example of genuine and durable partnerships for the sustainable development of small island developing States.
"The AOSIS Fellowship is an important partnership for Italy. Not only does it increase the capacity of the small island developing states, it strengthens multilateralism and supports our common actions for sustainable development," said Ambassador Stefano Stefanile, Deputy Permanent Representative of Italy to the United Nations. "We recognize the excellent work of the ten AOSIS Fellows this year."
UN Small Island Developing States Partnership Awards is an initiative proposed by Antigua and Barbuda and the Republic of Malta during their two-year tenure (2020-2021) as the Co-Chairs of the Steering Committee of SIDS to recognise the efforts of the most genuine and durable partnerships for the sustainable development of Small Island developing States (SIDS) in line with the SIDS Accelerated Modality of Action (SAMOA) Pathway.
Sub Topic: Capacity Building
Forum:
____________________________