AOSIS Chair Meets With US Climate Envoy, John Kerry
July 26, 2021
SPEAKER: HE Ambassador Diann-Black Layne, AOSIS Lead Negotiator on Climate Change
At the UK July Ministerial, Minister Molwyn Joseph discussed the need for urgent global ambition for climate change ahead of COP 26
Climate Change
News
Press Release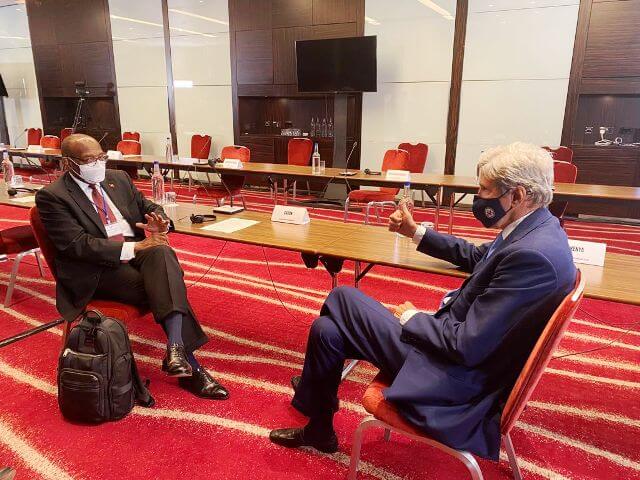 The Honourable Minister Molwyn Joseph of Antigua and Barbuda, representing the AOSIS Chair at the UK's July Ministerial, engaged in productive discussions with US Special Presidential Envoy for Climate, John Kerry, at the margins of the Ministerial.
The bilateral meeting centered on the need for major emitters, particularly within the G20, to step up their ambition and action to  close the emissions gap and make strong commitments to align their 2030 targets with the 1.5°C goal. This was a call championed by AOSIS throughout the Ministerial.
At the UK's July Ministerial, the message from small island developing States (SIDS) appeared to be well received. This provides a level of hope that the major emitters are beginning to understand their responsibilities and should be committed to keeping the 1.5 degree goal in reach," stated Minister Joseph.
"Based on the forecast and trajectory from the best available science, we must achieve drastic emission reductions between now and 2030 to keep 1.5 alive. And as AOSIS Chair, I am committed to holding all countries accountable to this target. Moreover, major emitters, especially the G20, need to redirect all fossil fuel subsidies into renewable energy investments."
"Realistically, this is going to require that we continue to press for declared commitments by the major emitters ahead of COP 26 in Glasgow," he continued.
"Coming into the Ministerial, I was unsure whether there was a recognition of the true need for addressing loss and damage. There now appears to be greater appreciation by the conference for the fact that SIDS bear the brunt of the negative effects of climate change in real terms; and major emitters must accept responsibility to support SIDS, especially when climatic events inflict serious loss and damage to their infrastructure and economies. This has already resulted in the loss of life and disruption of livelihoods.
For SIDS, this is not abstract, this is real! This is a matter of climate justice!"
About AOSIS:
Since 1990, AOSIS has represent the interests of the 39 small island and low-lying coastal developing states in international climate change, sustainable development negotiations and processes. As a voice for the vulnerable, its mandate is more than amplifying marginalised voices as it also advocates for these countries' interests. In terms of size, AOSIS closely resembles the countries it represents on the global stage, but often punches far above its weight, negotiating historic global commitments to cut greenhouse gas emissions, among other achievements.
____________________________
Media Contact:
Bianca Beddoe | Communications Advisor
Tashwa James | Communications Advisormedia@e6dnxsswo6r4cwebsite.azurewebsites.net